Re: want to buy a truck
---
Well the only trucks i know of designed with a sporty/performance attitude is the Lightning, Ram SRT-10, Tacoma S-Runner, and a Dakota 5.9 R/T. Does the tailgate need to be up? If not any pickup can get the job done really. Probably just want a 2wd mid-size truck like a Frontier, s-10, Dakota, or Tacoma and mod it to your desire.
__________________
1998 Chevrolet Blazer LT (95% stock)

Pioneer AVH-P7500 DVD receiver
12" Alpine Type-R in a sealed box
PIAA Super Plasmas GT-X bulbs
PIAA Xtreme White bulbs
K & N drop-in filter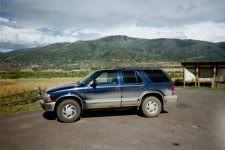 "Melo" and "AI". Enough said.