Re: need advice look here
---
What console do you have? I just got Gran Turismo 5 Prologue for PS3. Its pretty cool. All you're doing is racing for money to buy cars and you can't customize them or anything, but its nice to have something until the final product comes out sometime next year. Plus being able to win money in the online races is cool too. The online also tells you what country each player is in, which is interesting.
__________________
1998 Chevrolet Blazer LT (95% stock)

Pioneer AVH-P7500 DVD receiver
12" Alpine Type-R in a sealed box
PIAA Super Plasmas GT-X bulbs
PIAA Xtreme White bulbs
K & N drop-in filter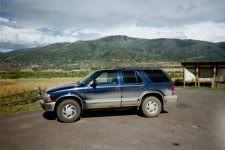 "Melo" and "AI". Enough said.