Re: Any of you guys gotta ps3
---
I promised myself that I would not get one until the next Gran Turismo came out. But since I most likely won't get a 360 (my roomates has the 3 ring death) I may get one in October when Grand Theft Auto comes out.
__________________
1998 Chevrolet Blazer LT (95% stock)

Pioneer AVH-P7500 DVD receiver
12" Alpine Type-R in a sealed box
PIAA Super Plasmas GT-X bulbs
PIAA Xtreme White bulbs
K & N drop-in filter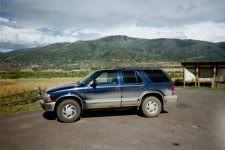 "Melo" and "AI". Enough said.