Every year the Automotive Networks, Inc team chooses an entrant to follow during the PasMag "Tuner BattleGrounds"
competition. Owners battle it out down to the final two vehicles where they face off head to head at SEMA every year.
Our choice solely isn't decided based on car alone, it has to do with the owner as well. This year we followed a 2001
Honda S2000 owned by Ger Reyes out of Winnipeg, Manitoba, Canada. While the s2000 has an impressive
modifications list, his attitude was equally impressive. It was quickly noted the amount of positive oozing from the
daily posts asking for vote and shares, always ending with many thanks. It became intriguing. There were hopes Ger
would make it to the SEMA finals just to see if this guy was for real. He stood and delivered. Upon our first meeting
he began by thanking for our support in true Ger appreciative fashion. We were then told the story of how he set out
looking for a project car. He wanted a car destined for junkyards to save. One man's vision and persistence restored
from the ground back up a true champion.
ENGINE & PERFORMANCE:
CT Engineering NOVI 1200 supercharger
Ultimate Racing (S2000 Comptech SC FMIC Kit w/ polished pipe, BLK hoses, TiAL BOV w/ SC spring)
Science Of Speed (custom modified 3.2-inch pulley, drive belt, dual valve spring kit, titanium valve spring retainer kit,
dual spring base kit, 3-bar MAP pressure sensor
NGK 2668 BKR8EIX Iridium spark plug
Cometic 87mm head gasket w/ .075-inch crushed thickness
ARP head stud kit
ARP carbon fiber spark plug cover
ARP carbon fiber radiator cooling plate
Injector Dynamics 1000cc fuel injectors
Custom painted intake manifold & valve cover
Samco custom radiator hoses
P2R intake manifold & throttle body gaskets
Koyo Hyper V-Core Series radiator w/ SK-C13 radiator cap
Skunk2 oil cap
Titanium 'True Burned' dress up bolts
AEM In-Tank Fuel Pump 320 LPH
MotoMaster Eliminator Ultra AGM Battery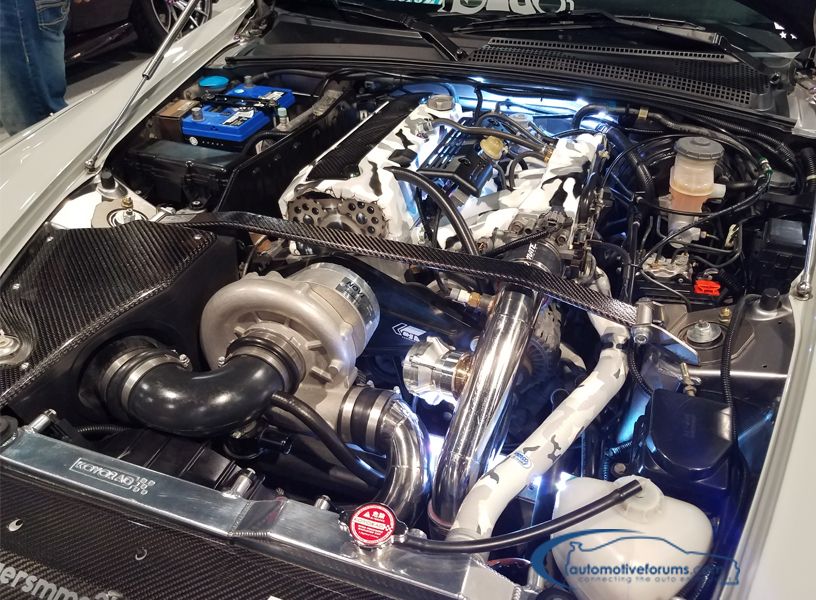 CHASSIS & SUSPENSION:
Cusco ALC0S carbon fiber strut bar
KW Suspensions Variant 3 coilover set
Umbrella Auto Design VRH lift system
BRAKES:
Speed Engineering directional vane rotors, slotted (f/r)
Spoon Sports Monoblock caliper set
Hawk HPS brake pads (f/r)
APR Performance Carbon Fiber Brake Rotor Cooling Kit
Braided stainless steel brake lines w/ clear vinyl coating
WHEELS & TIRES
Work Meister M1, Matte Gunmetal Adisk - 18x10.5 -8 (f), 18x11.5 (r)
Yokohama ADVAN Neova AD08 R - 265/35R-18 (f), 295/30R-18 (r)
Blox 60mm M12X1.5 aluminum extended neochrome lug nuts w/ spike
EXHAUST:
T1R 70R-EM stainless steel dual exhaust
Berk Technology (70mm cat delete pipe w/ built-in O2 CEL fix, 50mm exhaust manifold/header w/ Hipercoat Black Ceramic HPC)
ELECTRONICS:
AEM (EMS Series 2 UEGO, Universal inline wideband UEGO controller, digital UEGO/wideband AFR gauge w/ controller,
multi-function serial datastream gauge)
Dual 52mm gauge pod
DRIVELINE:
Science of Speed Sport clutch
CT Engineering Competition Reinforced Diff Housing
EXTERIOR:
M&M Honda Racing Hyper Widebody Kit (7-pieces)
JDM AP2 custom front & rear bumpers
M5 x 16mm titanium Allen Hex tapered head stem bolts screws (custom upgraded for widebody fender flares)
Seibon Mugen carbon fiber hood
Carbign Craft carbon fiber heat shield bumper (r)
APR carbon fiber diffuser (r)
Honda Type-R badge (r)
Voltex Type 7SN GT wing
APR Formula GT3 Carbon Fiber Mirror
Red swivel tow hooks
Karbon Haus Mugen hard top
LIGHTING:
SPEC-D Tuning halo projector headlights
GTR Lighting 8,000K Low Beam OEM Replacement HID Bulbs
GTR Lighting GEN 2 H1 LED High Beam Bulb Upgrade
GTR Lighting 80W Super Bright LED Front Turn Signal Bulb Upgrade
GTR Lighting 80W Super Bright LED Rear Turn Signal Bulb Upgrade
GTR Lighting 80W Super Bright LED Reverse Light Bulb Upgrade
GTR Lighting 80W Super Bright LED Brake Light Bulb Upgrade
GTR Lighting High Power LED Parking Light Bulb Upgrade
GTR Lighting High Power LED Board License Plate Light
GTR Lighting White Lightning Strip for Custom Dome Light
GTR Lighting LightNing Series LED Festoon Bulbs for Overhead Map Lights
GTR Lighting RGB LED Accent Lighting in engine bay, interior, and trunk, with audio-sensitive controller
INTERIOR:
Works Bell Rapfix II red quick release w/ 2235 short hub
HPI 4-point 'Desert Camouflage' racing harness
MOMO Prototipo steering wheel
Bride VIOS III seats
Bride seat knee pads
Bride Type-FG seat rails
Honda OEM JDM NSX-R horn button
Custom painted interior trims
Intro-Tech HEXOMAT floor mats
Cusco 5-point safety 21 roll cage
NRG carbon fiber steering wheel horn button ring replacement
S2000 seat belt extensions
Schroth Racing eyebolt
Carbon fiber instrument meter dash kit
Science of Speed Rapid Shift Knob (Electro Polished Stainless Steel - NSX type S)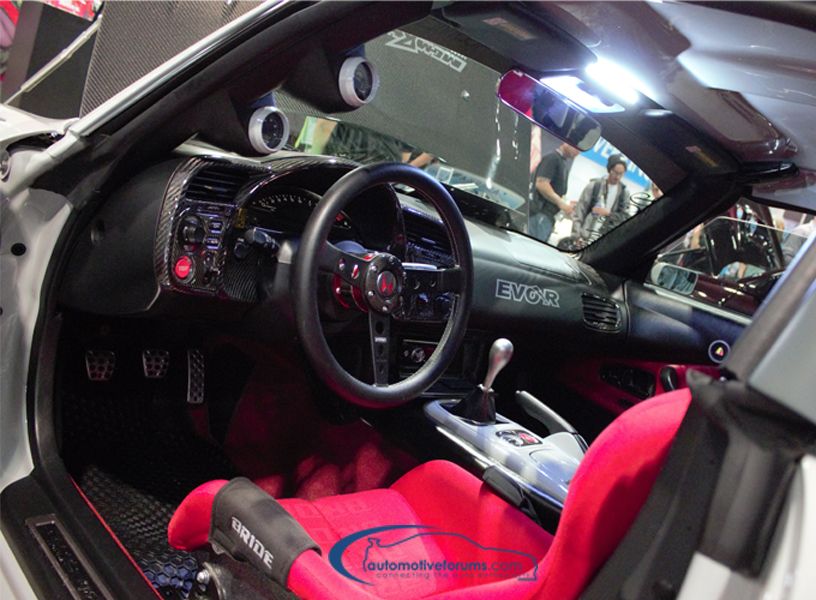 AUDIO:
Pioneer DEHX8700BH head-unit
JL Audio 10-inch subwoofers
JL Audio 6.5-inch coaxial speakers w/ 0.75-inch tweeters
JL Audio XD4004/4 amplifier
JL Audio XD600/1 amplifier
WayFab Creative custom trunk enclosure
Written by: Amy "amy@af" Newman
Edit by: Jonathan "jon@af" Swigart
Photos by: Monika "monika@af" Cozlin