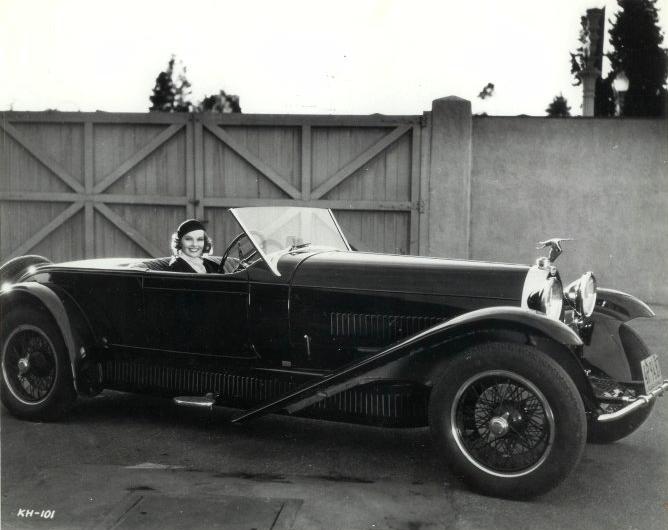 Above Miss Katherine Hepburn in the Murphy Roadster.
Full story:
When I posted the above picture on the Bugatti Page, I hadnīt thought I would have so many discussions about it. In fact there were even experts who thought that it wasnīt a Bugatti at all, that the lines and dimensions were all wrong, Miss Hepburn being presumably quite tall. I could personally prove that it is in fact a Bugatti, it is shown with Bunny Phillips at the wheel, on page 173 of Conway (I have the 5th edition, 1997), where Conway states that it is a T44 .
Full story came a few days later from Kees Jansen, who sent me the following text and pictures:
The well known 'Murphy Roadster', chassisnumber 38435, engine 338C, reg JNZ 191 (Ca). Delivered to Paris for the USA as a chassis on june 13, 1927. The body is by Murphy.
It is the first 38 fitted with a supercharger. It was used in a very early Katherine Hepburn movie, and later described in an issue of the 1956 Road and Track Magazine.
The publicity still of Katherine Hepburn in the Murphy T38 was taken for a 1933 film entitled "Christopher Strong." Starring Hepburn, Colin Clive and Billie Burke (better known as "Glinda" the Good Witch of the North in "The Wizard of Oz"), the film tells the story of ace aviatrix, Cynthia Darlington (Hepburn) who falls for (married) Christopher Strong, played by Clive...she must then choose between career or romance.
The T38 is featured in at least 3 scenes, including one in which it is thrown into a full four wheel spin to avoid another car while being driven (supposedly) by Hepburn.
The owners were Charles Howard, Jim Hill, Bunny Phillips, Robert Kountz and now Jay Leno. The wheels have been swapped with those of a 35B 4748 for a while as Bunny Phillips was not allowed by the officials to run the Indianapolis race in his 35B on alloy wheels, and as he also owned this car he swapped the entire wheel assemblies between the two cars which allowed him to race his 35 GP with wire wheels.
The T38 wore the alloy wheels until the middle of 2002, when they were once again replaced with wire wheels in the original configuration. The car has hibernated for a long time with Bob Kountz, but now it has been completely restored by Randy Ema, including the refitment of the original supercharger and installation of a five main bearing crank. Its present owner, Jay Leno, has presented the car twice at Pebble Beach (2002 and 2003).
The radiator mascot presumably is from a Hispano Suiza, and may have been fitted for the movie only.
A part of the movie, in which the Bugatti makes a spin! can be seen on:
http://www.bugattirevue.com/revue22/38435.htm