It can be done, it would be a pain though. So many wires, custom mounts, axles, ecu, etc. It'd be easier to just build the motor you have (pistons, rods, cams, valves, get it sleeved, bored, etc.). Then from there you can either A) Have an awesome all-motor build or B) Be set up fully built for a reliable boosted engine. All depends on how much money you have.
__________________
1994 Honda Prelude Si H23A1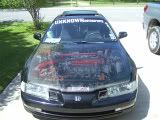 Me: Get new U-Joints, then your Ford won't suck as bad.
Him: Do I need o-rings?
Me: No you idiot.
Him: Sorry, I've never replaced an O-Joint before
Me: FAIL