Hi everyone,
This is my first post in this 'Diecast Car Modeling' section. Actually, I came from the next door plastic model kit section, the 'Car Modeling'. As collecting 1:24 scale of car diecast becomes my new addicting hobby, I'd like to share some of my diecast collection.
So here you go.. As it's my first post, I'm posting my most favorite diecast (in fact, it's my dream car!) after all, M3 e92, which was made by Motor Max (or Mondo Motors).
As you can see in the following pics, It was pretty well painted in white and has carbon fibre look roof which gives wild looking for this sweet european car. It also came with undersized wheel which later on I replaced with
Leon Hardiritt Bugel
20" from Aoshima. While its body is well molded and quite proportional. However, it's so unfortunate that the headlamp is smaller than it should have to be.
For interior, it's the combination of beige and black color to give it luxury and elegant look. I would say the dashboard has fair details for 1:24 car diecast. Furthermore, the good news is that the front seats can be taken off by disassembling the chassis first. So for example is if you want to give the interior race atmosphere, you can replace them with bucket seats. How cool it is! Well, for the time being, I just keep them as they are now.
Overall, I give it 9 out of 10 for this car.
Enough for the talk, here is the picture. Enjoy!
--
--
--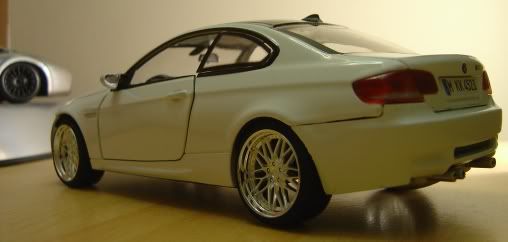 --
--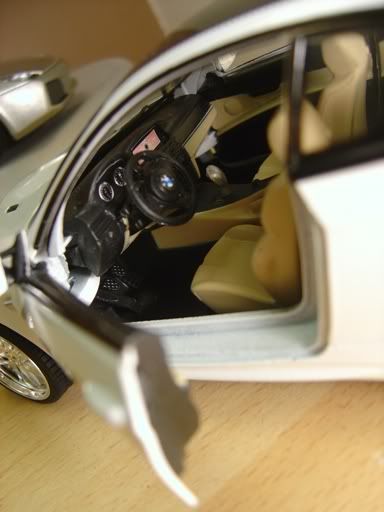 --
With brothers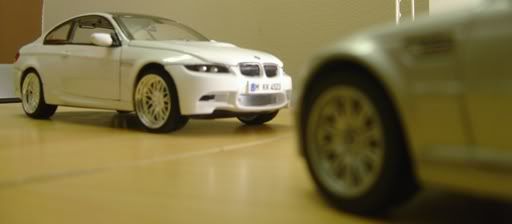 And just for fun

Last but not least, comments are mostly welcomed & appreciated.
Thanks for looking!