F&F fan or not, we all have seen him & heard about him for such a long time...
I'm just speechless....
Santa Clarita, California (CNN)
- Actor Paul Walker, who shot to fame as star of the high-octane street racing franchise "Fast & Furious," died Saturday in a car crash in Southern California. He was 40. Walker's publicist Ame van Iden confirmed his death, but said she could not elaborate beyond statements posted on Walker's
official Twitter
and
Facebook accounts.
Walker was a passenger in a friend's 2005 Porsche Carrera GT and both were attending a charity event for his organization,
Reach Out Worldwide
, in the community of Valencia in Santa Clarita, about 30 miles north of Hollywood. The website for the charity said the Saturday event was intended to benefit victims of Typhoon Haiyan in the Philippines.
Speed was a factor in the crash, the Los Angeles County Sheriff's Office said. The wreck took place about 3:30 p.m. (6:30 p.m. ET), about 300 yards from the office park where the event was held. The speed limit there is 45 mph. Up and down the road near the crash site were burned rubber and doughnut marks as though someone smoked their tires in figure 8 patterns. "I don't know if the marks in the road are related to the crash," said Los Angeles County sheriff's Sgt. Brian Allen.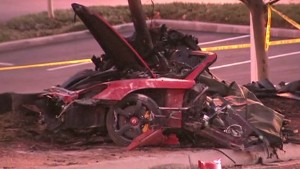 .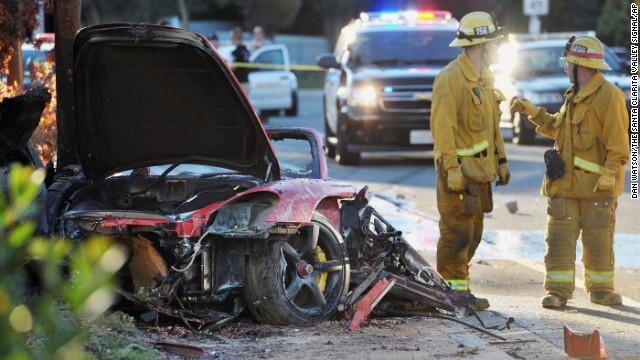 .
Deputies arrived at the scene to find a vehicle on fire, he said. Once fire crews put the flames out, they found two occupants, both of whom were pronounced dead at the scene. Saturday evening, all that remained was the burnt mangled metal of the red car and a light pole that had been knocked down. The county coroner said that, given the condition of the bodies, it will take some time to definitively identify them.
Diesel said in a post on Instagram: "Brother I will miss you very much. I am absolutely speechless. Heaven has gained a new Angel. Rest in Peace."